This is a call to move now
into my embrace
and let yourself be comforted.
Love is not something you do.
It is what you are.
This course was written
to move the mind
to appeal to the heart.
To truly see
is to begin to see the formless.
Let your heart remember
that you are holy
and the world is sacred.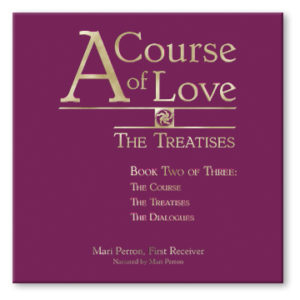 NOW AVAILABLE! THE SECOND AUDIOBOOK NARRATED BY MARI PERRON, "THE TREATISES"
WANT AN OVERVIEW?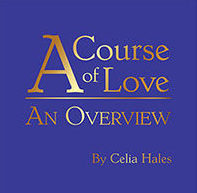 Long-time blogger Celia Hales is both comprehensive and clear in A Course of Love: An Overview. Her 48-page booklet tells the story of how Mari Perron was unknowingly prepared to receive ACOL, a synopsis of the content, significant quotes, FAQs, and more. Only $3.95 — click to buy now — available in paper and as an ebook.
ACOL Quote-A-Day
All relationship is holy because it is within relationship that being is found and known and interacted with. Relationship is thus the route or access to being and being the route or access to relationship. One cannot exist without the other and thus both are one in truth. This is the divine marriage, the divine relationship of form and being. While these may seem like simple words, or like a theory being proposed, these words are at the heart of the new way of seeing yourself—a way of seeing that will create a new world. D:Day33.3,4
Now available – the ACOL Access App! Start your day with the ACOL Quote-A-Day on your phone or device. This handy app also gives access to Mari's Blog, The Center for ACOL website, and other features. Download for iPhones or for Android devices.
"Jesus wants us to create a new world, and his channeled messages are attempts to influence society to change its course. A Course in Miracles has changed the course of how our culture is going. Now, I believe, it is the new identity that A Course of Love leads us to that will alter the destiny of humankind." — Celia Hales, "Miracles Each Day" blog 1/18/17