Watch or Listen to Mari's interview with Rick Archer on Buddha at the Gas Pump, February 4, 2017 (Batgap.com)
Audio
Audio also available as a Podcast (Mari is #385).
February 2018: A Course of Love at the San Francisco Course in Miracles Conference — Part 1 A presentation in which Mari Perron shares her journey receiving A Course of Love, illuminating connections between ACIM and ACOL.
February 2018: A Course of Love at the San Francisco Course in Miracles Conference — Part 2 Mari Perron presents ACOL with insightful audience participation, revealing what it means to share who you truly are.

April 2016: A Course of Love at the Course in Miracles Conference — Part 1
"When we know who we are, we know who we are not. That's the end of the ego." Mari Perron, First Receiver of A Read MoreRead Less

Course of Love, shares her experience with A Course in Miracles, the theme of the conference (Change your mind/Change the world), and says, "As we become new the world becomes new." She speaks of how Jesus sets in motion our movement from fear to love, talks of Christ and Christ-consciousness, of why the heart is the focus of this new course, and of its radical call to elevate the self of form. (30.14)
Part 2     "Who are we?" Mari Perron addresses this question and how we come to know who we are. She speaks of the "knowing that comes of being it," of both ordinaryRead MoreRead Less

and extraordinary ways of knowing, of callings, and the call that, through a dream, stirred the great longing and desire that led her to the reception of ACOL. "Longing is our proof of love's existence," ACOL says. "The toughest part," Mari says, "is loving ourselves as who we are," yet in doing so, we "restore ourselves through love and resurrection." We keep the heart of who we are as we join in union and relationship and create union and relationship as a new state of being. (30.10)
Part 3    Mari uses a metaphor to describe the great blending that we are, saying "We show up every day distinct within oneness, sort of like the sun and moon." Standing at the threshold of the new, we can be love incarnate. In concluding remarks she shares how ACOL came to her. Followed by Q & A.
April 25, 2016 at The Center for Spiritual Awareness, Sacramento, California. In her first sermon, Mari speaks a bit of her experience with yearning to know and be known, and the message of A Course of Love: Your minds have gotten the better of you. Come back to your heart.
April 20, 2016, at the Community Miracle Center, San Francisco, CA (1.01) "What is your heart's desire? Mari speaks of the call in The Dialogues to, "Fan the flames" of our desire "to be and to express" who we are in truth, and of the stumbling Read MoreRead Less

block that continued belief in the ego can be. Her talk is followed by a brief meditation and Q & A.
November, 2015, Introduction to the Course of Love Dialogue Series (2:09) Individual dialogues between Mari and reader/receivers of ACOL can be found on the Center for A Course of Love website: https://www.centerforacourseoflove.org/dialogue/
April 2015, live from the ACIM Conference in NY
Rev. Maria Felipe speaks with Mari on the subjects of peace and relationships. (13.58)
2010 at the Rocky Mountain Miracle Center, the following segments share snippets of one of Mari's early talks, plus an interview filmed by Leap! Ventures LLC. Mari introduces Read MoreRead Less

herself with humor, shares on the messiness of spiritual life, and speaks of ACOL as emergent heart wisdom. (13.02)
In "From A Course in Miracles to A Course of Love," Mari shares her love of ACIM and how it played a part in the coming of this second course, A Course of Love. (10.33)
Good Grief: Grief and the Spiritual Journey  It is the Western way to want to feel in control, even of the spiritual path; to achieve, even spiritual states.  Grief is beyondRead MoreRead Less

our control. In grief we enter into unthinkable states of being. We use language, likebeing "flooded" with grief, that acknowledges this.  The loss of control found in grief, is why it is so disconcerting…and so similar to true spiritual experience. (7.19)
Our Hearts Know the Truth
We can't get anywhere—there's no movement until the truth is on the table. A Course of Love is about the truth of who we are. (1:07)
Our Hearts Know
Why is life a roller coaster ride even after experiences of union? We're making ourselves manifest. (2.41)
The Time of Tenderness and A Treatise on the New
In the Time of Tenderness, Mari shares that the time to resist tenderness and tears is over. "When you get back to the heart, a wall comes down. People can Read MoreRead Less

come back "in." In A Treatise on the New, we're hearing about who we can be that's grander than we ever imagined: creating the union of the human and divine and an unthinkable future. (4.33)
New Ways of Knowing and A Course of Love  Mari talks of the receiving of A Course of Love as a new way of knowing, how new ways of knowing are experienced, and where we're headed.  This emergent knowing—of union, of the Christ-Self, of the heart—is ungraspable knowing. (7:46)
In this interview Mari addresses questions about the relationship of A Course of Love to A Course in Miracles, the matter of difficulties on the spiritual path, and acceptance of our selves. (6:15)
2010, A Course in Miracles and A Course of Love
Mari narrates a tale of ACIM, ACOL, and a few friends. (13.44)
Interviews & Presentations (Audio)

Miracles in the Mountains – Mari Perron MP3 Audio  In 2012 Mari gave a presentation at "Miracles in the Mountains – A Conference with the Scribes" in Colorado. This is an MP3 audio recording of her talk.
$15.00 Plus Tax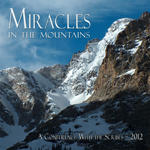 September 23, 2016 Awake 2 Oneness Radio interview with Caroline Chang (1:07)  The two women share stories, speak of oneness, and of finding the extraordinary in ordinary lives. Mari also shares on being called to go out to meet your mission and the concluding message of A Course of Love being one of dialogue and sharing in union and relationship.
February, 2015, Beyond 50 Radio, Interview with Daniel Davis (1:04)
Mari speaks of the major messages of this course as Love, new ways of knowing, and being who we are. Daniel asks and Mari clarifies that this isn't a work just for Christians. A wide-ranging conversation.
May, 2015, Voice of Change Interview with Sharon Ann Wikoff (1:14)  Mari speaks of being prepared without knowing she was being prepared. "Nothing "I" would have chosen would have prepared me." Going from a life-long Catholic to an accidental and intimate spiritual journey, beginning with friendship and Read MoreRead Less