Do you need to be other than yourself in order to navigate your daily life?
What you are being shown here is that you do not.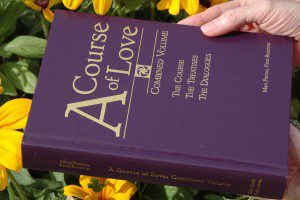 What you are going to realize from this time of seeming difficulty is an end to difficulty and the growth of your ability to do whatever you do peacefully and to be who you are in any situation in which you find yourself. There is no time to wait while you learn, or think you learn, the qualities that will allow this. This is the point of movement, being, and expression coming together. The point of convergence, intersection, and pass-through. This is it! Right here in your life as it is right now. There is, thus, no call to be discouraged. This is not delay, but what you might think of as trial by fire. Be encouraged rather than discouraged that you are able to embrace this dialogue and remain in your life. Realize that this is just what we work toward! This difficulty will pass through you as you allow for and accept where you are right now and who you are right now. DDay6:30-31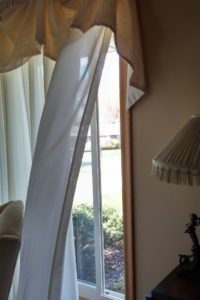 I was sitting at my dining room table writing thank you notes to the hosts of my recent trip to Florida, and after a while, it being so quiet in the house, I started hearing what I thought might be a mouse. We live with woods behind us and get mice from time to time, and even a red squirrel got in once. So, I was aware of this and kept listening as I wrote. When I was done with my notes I got up, and walked—literally with an ear cocked toward the front of the house. Maybe it was in the closet or the fireplace? Finally, I realized that, with the front window open, the sound might be coming from outside. I was still thinking critter, only now maybe a woodpecker…until I opened the door. As soon as I did, I could immediately see the source. Strange as it will sound, the muted tapping was coming from a block away and a roofing job being done.
These are among the surprises of spring. You're so unused to open windows that, for a while, you can misjudge.
You're so unused to the open window, so unused to the thirty-five shades of green that line your street, so touched by the budding of the fruit trees, by the mint patch making what feels to be a miraculous comeback—that you're in awe. You love the dandelions because they're yellow and the spring catalogues that speak of bluebells and goldenrod, lupine, and violets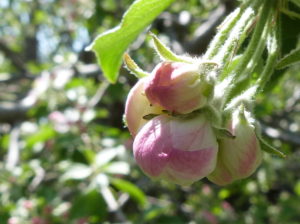 and morning glories.
The new growth and fresh air and even the onset of fine-weather-projects, make spring . . . encouraging.
This got me thinking about all the encouragements of this year so far—of which there've been many. I mean, I've already had a new grandbaby this year. That's about as encouraging as it gets.
But my time in Philadelphia in February started my year in a spectacular way. I was feeling tired and ready for a break, but also so excited for the invite to speak at the Center for Contemporary Mysticism, that—as I was preparing for that visit—which I planned to be my last of the year, I laid in bed one night, asking myself, "If this is to be the last gathering of this year…what do I really, really, want to say?"
I got such a stream of answers to this question that I turned on the light and started taking notes.
When I read these at the Center, I got, I think for the first time ever, applause in the middle of a sentence. You know—sure you get applause at the end of a presentation, but this was a spontaneous eruption like the gurgle of a spring.
What I wanted to give was—encouragement.
I started by saying, "I want to give you every encouragement and every permission to be who you are."
I said, "I want to tell you to do what you want to do, rest when you want to rest, say yes or no as suits you, and to know that it's okay and you don't have to feel guilty."
I thought of everything that delayed me, and the first thing that came to me as what delayed me was other people's ideas of who I should be. So, I also said, "Don't let anyone else tell you who you should be, or how to feel, or that you don't need to feel as you're feeling, or that you're not doing it right…or any of those things…especially not for your own good. I want you to truly feel free to follow your hearts, and to not let anything coming from outside of you hold you back, and to not feel that something on the inside that isn't pleasant is a mistake, or like it doesn't matter, or that your past matters too much, or not at all; or that you can pretend to feel good, or bright, or peaceful or happy when you're not.
"Love is about the end of pretending, and hiding and avoiding and being unkind to ourselves. We can be true and we can trust that we're on the heart's path and not wander off to seek being someone other than we are again, because nothing else is going to do what coming home to yourself can do, what loving yourself can do, what getting to know who you are can do, what expressing the love that you are can do."
Somewhere in there, I got that applause.
I didn't quote directly but mentioned lots of encouragements Jesus gives us in ACOL too, encouragements that make it really clear that he's not worried about us over-indulging ourselves—but denying ourselves; not concerned with us giving ourselves freedom—but with denying it. He's not asking us to be disciplined—but to liberate ourselves from what restricts us. He's not asking us to give away our power but to claim it. He says, Release yourself from the prison you've been in and don't give keys to a new jailer. (see D:4)
And now I've just returned from a visit with friends in Florida, and my friend Paula wondered if we might not have a "Conversation with Mari" at a center there. I said, "Sure." And even though I didn't say a word about encouragement this time, I felt it going out from me, and I felt it coming at me like a rabbit- foot-charm laying itself up against my cheek. I felt these soft brushes of encouragement floating around me from everyone I met, and from the manatees that circled my kayak while I was on a lagoon.
In dialogue with a little group just after I returned, I had the sense of an idea being born, right there, between us as we spoke. An idea that had no intention and wasn't invented or invested in ahead of time—but that was born of "us." That was encouragement!
Surprisingly, new life springs up without our encouragement . . . and gives encouragement. . . to us. I hope you will accept this little springtime encouragement from me!