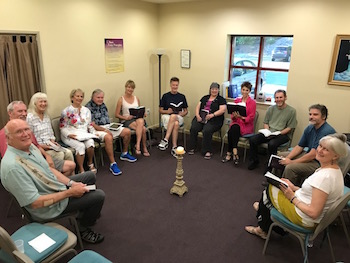 Many ACOL readers find it helpful to participate in a Sharing and Deepening Group, either in-person or via conference call or on-line. This information is provided to help you join with others in a shared purpose.
"The task of facilitators of such meetings of open hearts is to direct the reader away from ego mind and back to wholeheartedness or Christ-mind. "How do you feel?" is a more appropriate question than, "What do you think?" The sharing of experience is more appropriate than the sharing of interpretation. The sharing of process is more appropriate than the sharing of outcome. Facilitators will keep readers from attempting one correct interpretation, as the only correct interpretation is that which comes from each reader's own internal guidance system." A:15  If you are inclined to promote ACOL or to facilitate an ACOL group, please consider this.

"The Cards" are excellent for use with ACOL groups — or by individuals. Click here for free access.
There are many groups forming. On the map below, please ZOOM IN to see what's available in your location. (Some group locations are close together geographically, so one map marker may "hide" behind another unless you ZOOM way in.) If you have a group and wish to let others know about it, please enter information about it on the form below, and we will add it to the map. If there is nothing in your area and you wish to form a group or join a group that may form, please fill in the form below the map and we will add it to the map.

ADD YOUR ACOL GROUP TO OUR LIST!
Comments or questions are welcome.
Telephone & Internet Groups
Mondays through Saturdays / 7:30 am EST – Facilitator: Chris Souchack. TO JOIN – Call Conference number : 712-775-7035 enter code 974635#. Questions? Contact Chris: csouchack@gmail.com
Mondays, Wednesdays, Fridays / 10 am CST – Facilitator: Meg Warden. TO JOIN – Contact Meg at 970-988-0121 or via email
meg.warden@q.com.
Tuesdays / 8:30 -10:30 am PST – Facilitator: Rev. Judy Junghans. TO JOIN – This group requires a 10-week commitment and fee
of $100 per 10 weeks (negotiable if needed). Contact July Junghans at 415-885-0293 or 415-830-1816.
Wednesdays / 11:30 am EST – Facilitator: Carrie Christiansen, Awakening Together.  TO JOIN – Go to http://awakening- together.org/interact/a-course-of-love-group-audios
Thursdays / 7 pm MST – Facilitator: Earl Purdy on Facebook Live. TO JOIN – For Facebook Live streaming and recordings, go to
Earl's Facebook. https://www.facebook.com/earlpurdy
ACOL Group Recordings always available – Facilitator: Rev. Reja Joy Green. TO JOIN – https://www.jcim.net/acim-soundcloudplaylists/  (Two places on this page) and https://www.jcim.net/acimconference-calls/ (scroll down). Questions? Contact Reja: rejajoy@jcim.net
START A GROUP
Get support and guidance with setting up a conference call or internet-based group. Simply send an email to Glenn Hovemann— glenn@takeheartpublications.org.