Join the 20th Anniversary Celebration!
★ Register NOW for 40 FREE sessions on Dec. 1st, 2nd, and 3rd!
★ Extended Access for viewing after Dec. 4 is available for purchase. Support the nonprofit Center for A Course of Love at different levels — $30, $60, or $120 — your choice!
★ A Bonus Package comes with every extended access purchase
★ Exclusive Book Offers available for purchase by all attendees

Celebrate Mari Perron's
First Receiving of ACOL from Jesus
"In order to BE yourself,
you have to SHARE yourself." – ACOL
This online conference allows you to attend—from the comfort of your home—about 40 sessions both live and pre-recorded.
40 Sessions Including:
Previously unpublished messages from Jesus to Mari

A "Celebration of Two Courses" with Jon Mundy


A conversation about "The She of Humanity"

Insights into how ACOL aligns with Quantum Physics

The experience of dialogue with Mari

And much, much more!
Register Now and Get Bonuses and Exclusive Offers!
FREE REGISTRATION HERE
Sign up below and you will be emailed links to the events. You will also receive the ACOL newsletter, The Embrace. (You can unsubscribe with a click!)
BUY EXTENDED ACCESS AND WE WILL REGISTER YOU

Choose your price for the Extended-Access Option! This option give you access any time after Dec. 4 plus a bundle of Bonuses (see below). You may purchase for $30, $60, or $120. All proceeds go to the Center for ACOL, a nonprofit organization. We appreciate your generous support. We aim to make this Conference affordable for everyone. If you need a scholarship, please email your request to events@acourseoflove.com. You will also receive the ACOL newsletter, The Embrace. You can unsubscribe if you wish.

EXCLUSIVE OFFERS
FOR ALL ATTENDEES!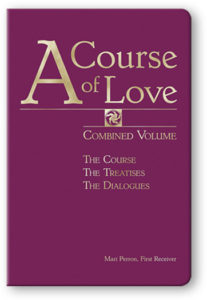 The hardback edition of ACOL signed by Mari Perron — a Collector's Item. $44.00, FREE shipping (U.S. only)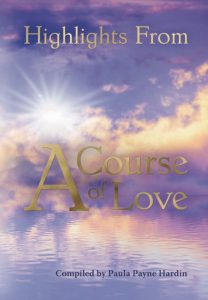 EXCLUSIVE! Brand-new, 240-page Highlights from A Course of Love compiled by Paula Hardin and signed by both Paula and Mari. $16.95, FREE shipping (U.S. only)

VALUABLE BONUSES THAT COME WITH
EVERY UNLIMITED ACCESS PURCHASE
★ Previously Unpublished Jesus Material from the personal archives of Mari Perron — a 20-page PDF document.

★ Dialogues Unveiled, a 6-page chapter from Jesus explaining "dialogue" in depth, received by Mari in 2002.

★ A YEAR'S FREE SUBSCRIPTION to Miracles Magazine (six issues, a $35 value) featuring articles from engaging authors about A Course in Miracles, A Course of Love, and other forms of the "universal course." Jon Mundy, who was a close friend of Helen Schucman and Bill Thetford and who embraces Truth in many forms, is editor. (PDF only)
★ "Embodying Love: A Position and a Practice in Three Breaths" — a transformational presentation by Christina Strutt. (It comes as both a PDF and an audio file.)

★ A 25-page collection of Ecstatic Poems from Michael Mark's book, I Place My Hand Upon the Sky.
★ "Ten Points of Contact Between ACOL and ACIM," a PDF from Celia comparing and contrasting the two Courses.

★ A 20% discount on the Miracle Choice Pocket Game created by James Kelly. Role a dice, choose a card, and dialogue with other players to experience the power of choice in any situation you bring to the game. Find out more at https://miraclechoicegame.com/pocket-game/

Conference Speakers  –  Click Image to Learn More