GET EXTENDED ACCESS NOW

(Or get Exclusive Book Offers Separately – See Below)
Extended Access to entire conference is now available. All proceeds go to the Center for ACOL, a nonprofit organization. We appreciate your generosity. Select your level of support:

CONFERENCE TOPICS & SPEAKERS

With the purchase of extended access to conference material, you will have access to ALL of the following pre-recorded sessions, plus seven sessions that were recorded live during the conference dates Dec 1-3, 2018.
Hear Your Call Mari Perron
The Grace Trilogy  (1994-1997)  Mari Perron / Mary Love / Julieanne Carver
Spirit Sisters   (1998-99)    Mari Perron / Mary Love / Julieanne Carver
ACOL's History (2001-14)  Mari Perron
Pioneers of A Course of Love    (2002-03)


       Mari Perron / Earl Purdy / Sajit Greene / Terry Widner

Be Confident in Your Vulnerability (2002) Mari Perron
Mari Perron about Helen Schucman and more Mari Perron
The Power of Place. The Practice of Contemplation Mari Perron
The Heartbeat of the World Coralie Pearson
Creation of the New Mari Perron / Christie Lord
A Course of Love Becomes Known
       Mari Perron / Glenn Hovemann / Kathy Scott Perry
A Celebration of Two Courses Mari Perron / Jon Mundy / Lee Flynn
Go Quantum! Jon Mundy / Mark Greenfield / Christina Strutt
How to Receive Miracles Yasuko Kasaki

Read MoreRead Less

Two Courses to Awaken the Heart
       Rev. Reja Joy Green / Tom Whitmore / Mari Perron / Lee Flynn
Translating Not Just Words Translators of A Course of Love
The Connection Between Prayer and Divine Memory
Sebastian Blaksley / Coralie Pearson / Eric Huysmans
Two Courses – Differences and Similarities Celia Hales / James Kelly
Embody A Course of Love Ideas; Enable Greater Team Creativity
       Joe Kittel / Mary Love / Coralie Pearson / Lee Flynn and others
Leadership for Creating the New Jackie Lesser
Your True Self at Work Akilah Zuberi / Joe Kittel / Jackie Lesser
Living Love More Deeply Rev. Tony Ponticello
Observations From Witnessing Mari's Experience of ACOL
Mary Love / Christie Lord
The Way of Mary Mari Perron / Mary Love / Christie Lord
Companionship of Two Sisters Mari Perron / Christina Strutt
Heart-Opening Dialogue Mari Perron / Helen Burke / Rhetta Morgan
Discover Your Full Self in Dialogue Mari Perron and Mary Love
Dialogue is Like Cooking Together
       Christina Strutt / Jackie Lesser / Susan Bernardini / Lars Gimstedt
A Zoom panel on Zoom-based ACOL gatherings
       Joe Kittel / Lynn Kidd / Cole Knazovicky and others
The Unity of A Combined ACIM / ACOL Group
       Mari Perron / Joan Harrington / Joe Kittel and others
Learning in the Time of Christ Mari Perron
A Celebration of Poetry and Song
       Mari Perron / Rhetta Morgan / Helen Burke (Lady) / Michael Mark / Elliott Robertson
Creativity – The Human and the Divine Christina Strutt / Michael Mark

ESPAÑOL:      La vida transformada       Coralie Pearson, Miguel Bini, Sebastian Blaksley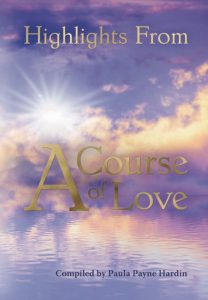 Just Released! 240-page Highlights from A Course of Love 
compiled by Paula Hardin. This book arose from Paula's leading of an ACOL sharing group–she selected "highlights" from each ACOL chapter and shared it with her group. The book consists entirely of the text that Paula highlighted–a great way to view (and share) the essence of each chapter. Retail price: $16.95. NOW 25% discount,  only $12.71 (U.S. only). To order, please go to the ACOL Store.

Click to Look Inside the Book!
(15-page sample)
BONUSES INCLUDED WITH
EXTENDED ACCESS

★ Previously Unpublished Jesus Material from the personal archives of Mari Perron — a 20-page PDF document.

★ Dialogue Unveiled, a 6-page chapter from Jesus explaining "dialogue" in depth, received by Mari in 2002.

★ A YEAR'S FREE SUBSCRIPTION to Miracles Magazine (six issues, a $35 value) featuring articles from engaging authors about A Course in Miracles, A Course of Love, and other forms of the "universal course." Jon Mundy, who was a close friend of Helen Schucman and Bill Thetford and who embraces Truth in many forms, is editor. (PDF only)
★ "Embodying Love: A Position and a Practice in Three Breaths" — a transformational presentation by Christina Strutt. (It comes as both a PDF and an audio file.)

★ A 25-page collection of Ecstatic Poems from Michael Mark's book, I Place My Hand Upon the Sky.
★ "Ten Points of Contact Between ACOL and ACIM," a PDF from Celia comparing and contrasting the two Courses.

★ A 20% discount on the Miracle Choice Pocket Game created by James Kelly. Role a dice, choose a card, and dialogue with other players to experience the power of choice in any situation you bring to the game. Find out more at https://miraclechoicegame.com/pocket-game/

Conference Speakers  –  Click Image to Learn More