One of my favorite things about A Course of Love, is that it invites us into deeper friendships with ourselves, each other, and even with Jesus. In The Dialogues, Jesus says we have done our learning, and our teacher (him) has stepped back. He confides that "We are both friends and co-workers. Colleagues as well as companions." (D:D6.25)
I experienced the wonder and thrill of beginning my spiritual path through friendship. Take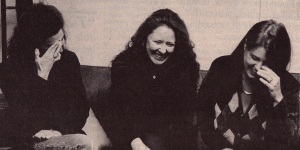 Heart Publications has now republished (in ebook form) The Grace Trilogy, the tale of that beginning, and I am filled with gratitude once again, for the experience. This photo is my favorite of the publicity photos that appeared when The Grace Trilogy first came out in 1997. It is from an interview that Mary Love, Julieanne Carver, and I gave to the "Minnesota Daily," the newspaper for the University of Minnesota. We worked there at the time. I love it because it so un-posed and natural. How often in a lifetime do we get such photos? Photos that capture our love and laughter as it happens?
It is not that I ever, for a minute, have not felt gratitude for that beginning, only that I feel it newly now. Even such things as re-publishing can cause you to enter a new relationship again, as I've found, as well, with the re-publishing of A Course of Love Combined Volume. My relationship to the words and to the world is different! My experience of publishing is very different, and, in a most lovely way, has grown new friendships for which I am exceptionally grateful as well.
Strangely enough, although also totally appropriate, is the feeling of humility that washes over me with both of these ventures. There is enough to spread all around, and I could, as usual, go on and on. But I want today, to share the strength of the humility I feel when I think of Mary Love.
Mary lost her daughter Grace when she was five weeks old. She wrote to her daughter through the early days of awe over having conceived, through the mid-term of preparing to bring her home, and as she discovered that her baby's heart was enlarged. She wrote after her daughter died. Two years later she shared this "secret" writing with me. Her writing still moves me so. It is just beautiful—she is just beautiful. But what came to me newly is how wise she is. Mary survived the death of her daughter, Grace, with the greatest of blessings. You might say that the heartaches of life that don't break you or turn you toward bitterness or resentment, bring you to wisdom and compassion naturally. You have "something" that is very precious and strong; that is real and shareable; but that takes great courage to share. Mary had the courage to accept being made vulnerable, and in her acceptance of it, showed Julie and me the necessity of vulnerability too. That Mary has shared her heart's wisdom with me all these years, is my own most precious gift of friendship. And my recognition of it is what is making me feel so humble today. Sometimes people think that I possess certain blessings for having received A Course of Love, and I suppose I do. I am grateful that this may be the case, and that I have come to see that by sharing myself, I also share whatever blessings have been made mine. Sharing ourselves is really the only way to share. This I learned with Mary and Julie even before A Course of Love came to me.
We, in friendship, discover and grow…together…with a lack of intention. Without there being a goal to achieve. Friendship doesn't have to have a reason for being. It doesn't have a point. Friendship is one of the greatest experiences of being alive and being human, and one of the greatest examples of what is available without effort, and of what effort can ruin. Friendship requires us to be who we are—naturally.
When Jesus calls us together in The Dialogues to be in friendship, to be "colleagues as well as companions," it is an invitation to join together as who we are in this joyous and supportive way.
So many people I have met have either been on solo journeys, or have been on a path that found them feeling a bit solo in community, often not seeing deep friendship as Holy Relationship but more as "special" relationship. I was reading ACIM in the final year or so that I shared my job with Mary and Julie. I remember one day going to our favorite lunch spot, a burger joint called The Big Ten, and asking them to join with me in Holy Relationship. It's always cracked me up that we entered Holy Relationship in this way, sitting in a booth with burger baskets.
Friendship is perhaps one of the most glorious gifts of the wholeheartedness Jesus speaks of in A Course of Love. We can't work for the blessings of the heart, but they come to us in the mutuality of true sharing and the extraordinary found in our ordinary lives. That's what I love most about the books of the Trilogy…how "not" perfect or "trying to be" we were. How we were simply open and generously given to … by each other and the universe.
You can read a bit about the books on our "Other Books" page, and purchase them through Amazon and Barnes and Noble. The Grace Trilogy is: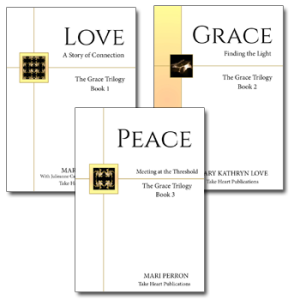 Love: A Story of Connection;
Grace: Finding the Light, and
Peace: Meeting at the Threshold.