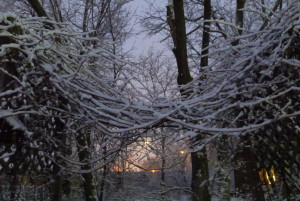 If I speak with human tongues and angelic as well, but do not have love, I am a noisy gong, a clanging cymbal. If I have the gift of prophecy and, with full knowledge, comprehend all mysteries, if I have faith great enough to move mountains, but have not love, I am nothing. Corinthians 13.1-2
Due to her age and the weather, Mom and I skipped a few weeks at church. Last night we were back. When the reading was the famous "Love is" from Corinthians, I settled in.
Unfortunately, there was a visiting priest who was still lost in a contest nature of heaven. He actually said, "Do you want your children to give only ten percent and only get ten percent of heaven?" How he got there from "Love is" I can't tell you. What happened to, "Love never fails?" It was painful to hear and it got me pondering the power of the person. The institution matters too (for good and ill), but the individual within the institution, the individuals with a true voice, are still where the power to "be a voice" for love and change and truth lies.
Within the Catholic tradition on whose edge I stand are such titans of voice as Matthew Fox, Richard Rohr, Simone Campbell, and David Steindl-Rast. And then there are those of the near past like Henri Nouwen, and of course, countless others about whom I could go on and on. Their wisdom is often called subversive.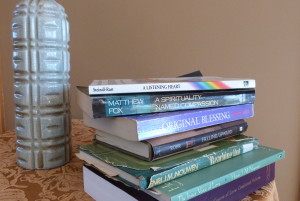 Of these I mention, only Matthew Fox was excommunicated, possibly for being the boldest and the earliest to voice his ideas of the cosmic Christ and Original Blessing, which teaches that the creation of humanity is defined not by sin but by God's blessing of life and purpose. He is also a voice committed to Divine Feminism.
Richard Rohr, much as ACOL does, suggests Jesus' death and resurrection is an archetypal pattern for the individual's movement from "False Self" to "True Self," from "who you think you are" to "who you are in God."
Sr. Simone Campbell, (of "Nuns on the Bus") says, "The whole contemplative life thing is about "walking willing" aware that we're one body. . . .  All of creation is one body."
Brother David has long been a voice for love. He now sees a shift wherein the emphasis is moving from the institution to personal experience, and says, "It is happening in people's lives on a very large scale, and it is absolutely irreversible." To which I say, "Hurrah!"
I write of this because powerful voices were on my mind this morning, but also because I see, through ACOL, the power of the person being returned to us. That this is a somewhat controversial notion is due, in part, to long identification of the person with the ego. In some instances it seems like the ego has an imbedded position that just won't give—not because the person claiming it isn't loving—but because it has become, in some sense, institutionalized—part of the lexicon of certain segments of spirituality. The idea of ego seems to hold on for dear life, at times not too unlike those in the church who hold onto the idea of sin (or earning our way to heaven).
One way the ego is an impediment to full realization of our potential is an idea that suggests that "If you think you are important, your ego is at work." That Who we are is important, may be the most crucial idea of our age. All these people I named do not think they are important in a way that comes of ego, but they sure feel their importance as part of the Oneness of creation of which the human person is a part. They know that some of their ideas are exceedingly important, and they speak particularly of ideas of who "we" are. In hearing their ideas and seeing the persons sharing them with heart and humility, I am moved and inspired. The source of the ideas is important to me, as well as the person's spirit, the way they share, the way they express themselves and that they live their lives with a total acceptance of the truth in all faiths.
The recognition too, that it is not easy to share one's voice, that it takes courage as well as humility, is clear to me.
That we are a community coming to voice gives me both a sense of great possibility and a feeling of deep inner peace.
 Who you are now, what your desires are, and where your talents have been recognized, are as given as the goal you now desire to realize. Again I remind you that the sameness of union is not about becoming clones or one specific type of idealized holy person. Union is being fully who you are and expressing fully who you are. This is the miracle, the goal, the accomplishment that is achieved through the reign of love, the maintenance and finally the sustainability of union. D.Day5.17

I ask you to turn your attention, I ask you to be attentive, to the relationship that you feel with God. 38.4 Being full of love for one another is the beginning of extension, the end of withdrawal. It is the mutuality of our love that causes this fullness. Remember briefly here the feelings of withdrawal you have experienced when you believed you loved more or that you were loved less by a friend or lover. Remember briefly here the feelings of withdrawal you experienced when you felt loved for being something other than that which you are. Know, through your brief contemplation of these feelings that this is behind us now. Know that we can be known and loved equally for who we are. 38.5 Call me God the Father, call me God the Mother, call me Creator, or Great Spirit, Yahweh or Allah, but call me yours. For this is who I Am. 38.6 Call yourself daughter or son, sister or brother, co-creator or friend. But call yourself mine. For we belong to one another. D.Day38
The Course of Love community will have a chance to gather following the ACIM Conference, Sunday afternoon April 10. I hope that, if it is possible for you, you will consider being there and sharing your voice and, if it is not possible, that you will be there in spirit, sharing my sense of possibility and peace. Information about the conference is available on the ACOL website www.acourseoflove.com and more will be available shortly about the ACOL gathering.