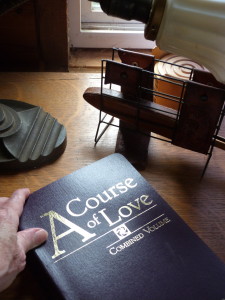 "While you think of acceptance as just another word, another concept, another trick of the mind, you will not see it as the replacement of learning, and as such as an active state, a state in which you begin to work with what is beyond learning, a state in which you are in relationship with what is beyond learning. It is in truth, a state in which you enter into an alternate reality, the reality of union—because you accept that reality. D.Day3.58
August is one of the in between months. As my daughter and her new husband, (who work in the service industry) say, it is the worst month for restaurants. There is too much going on: vacations, the State Fair, back to school. When Labor Day is over, business picks up again and is good through Christmas. I didn't ask if August is worse than January, but that feel of the in between is in the air, contagious. There are things to do before summer is over. And it is time to prepare for a new rhythm.
Consequently we went, yesterday, to an animal park in Wisconsin, an annual outing. Being that it's a tradition, there was great desire not to miss it, but it had been such a busy summer that it seemed about to slip away. And so, even though Mia's family had just spent the weekend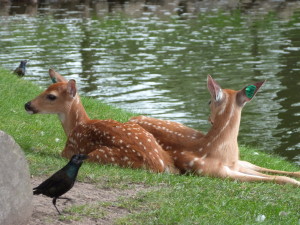 moving into their new house, we went, and it was about as perfect as perfect could be.
Yesterday morning, when I started this blog, I was feeling such appreciation for the way things have been. But today is a new day and I seem to have lost my focus. And why not?
We stand at the intersection point of the finite and the infinite in order to complete the creative act of becoming. (D:Day.6.1)
Are we ever removed from this creative act of becoming for more than five minutes? Acts that find us constantly swept into a new zone? A day of living changes a person. My time with my family is in a constant state of endings and new beginnings. I was grateful yesterday that they blend together, and I can appreciate both. I was grateful for this recognition. Today, my acceptance of this reality, after the big event of the family outing is over, turned in a new direction: to the reality of facing that my mom's life is coming to an end.
I visited her, Friday, the day after the doctor gave her this news. She is soon to be 91 so it was not unexpected. It was not a "you have a month to live" ending, but an acknowledgment that her heart is failing and that there is nothing more that can be done to prevent it. I visited her with hope of the sweet connection that comes of facing ones reality. I approached, wondering if she would surrender to it. She has not. Facing death, as Jesus says in The Dialogues, is a process of acceptance like unto that which is experienced with our discovery of our true Self through this Course. There are stages to accepting a new reality. There is a time in between.
I trust that this is so, and yet Mom's denial made me momentarily uncertain and wistful for a deeper connection right now, or at least, please Lord . . . soon! Yet it also helped me remember the need of accepting all the stages or states of our being, of our reality. There are stages to accepting a new reality. For some this approach of a new reality appears to be easy, but Jesus seems to suggest we will all go through the same "stages of grief" as we let our old lives go.
"Accept your anger for it is the next step in the continuum upon which we travel. When a person is dying, just as when a person is undergoing this final surrender, there are stages through which one moves. The first is denial, the second is anger." (D:Day3.1) The next is bargaining and the final stage before acceptance, is depression. "Each stage may contain hints of the other . . . each stage is experienced and felt." (D:Day3.52)
As I continue to feel the changes in my life in a new and enhanced way, I'm glad of this reminder of stages of acceptance. This variety of acceptance seems to me to be like the difference between memoir and statistics. It is why a memoir of war is about so much more than killing and yet causes one to abhor war much more than does a list of casualties. As with everything else, we each "accept what is" in our own way. There is no right way and the only "right time" is every day, every hour as we accept our feelings within them. There is our time—our time to participate in the creative act of becoming who we are, moment by moment, year to year, and even beyond time as we know it.
It may just be my view, but the process of accepting the physical life and the divine life as one, having them be interconnected, is why Jesus speaks of the stages of acceptance felt by the dying and spends so much time speaking of the constant acceptance needed to move into a new reality. It's a reminder to me, anyway, that acceptance doesn't come without feeling the feelings of all of it—the inner and the outer. I have witnessed this slow movement in myself. I am coming to acceptance of the changes in my life, in my way. And I am seeing that only "then" is there liberation from the old. I am not yet fully liberated, but I'm getting closer. The ultimate, liberating acceptance can't be rushed, but it can be gentled by not being hard on ourselves or others as it comes.
You are not separate now from who you will be when you reach completion! You are in and within the relationship of creation in which created and creator become one. (D:Day.6.12)