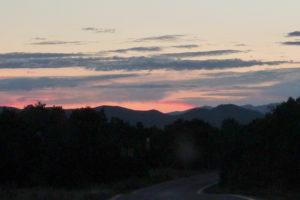 "Taking to the road—by which I mean letting the road take you—changed who I thought I was. The road is messy in the way that real life is messy. It leads us out of denial into reality, out of theory and into practice, out of caution and into action, out of statistics and into stories—in short, out of our heads and into our hearts. It's right up there with life-threatening emergencies and truly mutual sex as a way of being fully alive in the present." Gloria Steinem
At the airport, awaiting the flight that will bring me home from the ACOL event in Santa Fe, I buy Gloria Steinem's book, "On the Road." I'd thought of it when it first came out but at that time rejected the $18 paperback. Now, on the road myself, such reservations leave me. Gloria's musings prove to be the perfect accompaniment to the final part of my journey, a journey that made me wonder, "How can I still feel such "newness?"" How, when I sit at home wondering what lies  "on the road" ahead, can I possibly know what awaits? How can I even imagine lightness and joy when I'm nervously preparing and packing? How can I fail to report it when it comes? All these feelings of change!
And yet they keep coming!
Yesterday, being at church with Mom, walking arm-in-arm, slowly taking the ramp in front rather than the stairs in back, sitting near the door we enter rather than in our usual place, we agree quietly that we won't be back, probably, until Christmas. It is too much. Sitting with her, realizing all that she is having to accept, I know it could be our last time in church together. Along with the congregation, I sing one of my favorite hymns, "The Summons:" Will you come and follow me if I but call your name? Will you go where you don't know and never be the same? Looking down at my twisted ankle, supported with a small brace, I'm aware of my desire to walk with assurance into the unknown future. Into all that leaves me "not the same."
I think to myself, I should have written about Santa Fe right away—before this other stuff came along, making the change of Santa Fe part of a long course of continual change. And yet …
Change is the way.
Change is the way awesome revelations emerge. The way you get your sea legs. The way you expand into all that you are and the cycles of life that revolve as you go.  I realize how much I "took leave" of the known in Santa Fe, the wonder of it. Its effect is both a lightness and a strength in me.
Santa Fe was like a meeting with old friends I didn't yet know, like a sweet experiment in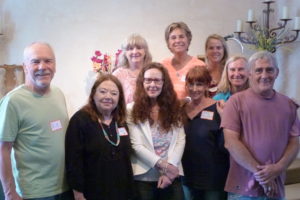 sharing. It had all the markings of a grand adventure, complete with treks into the personal and spiritual unknown, treks beyond where GPS could reach, and into areas of this great planet where noise could not reach and the heart could be heard.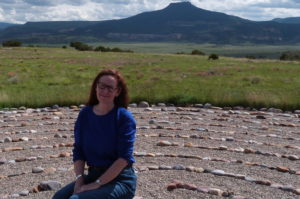 I spoke of still standing at the beginning, despite ACOL's 15 plus years in existence—of being "in it" together, in the change that is the movement to "the new."
To sustain Christ-consciousness in form is creation of the new. T4:4.18
Santa Fe changed me. It joined with the other continual forces of change, yet held me in its embrace for four days. It was an immersion into the newness of A Course of Love and a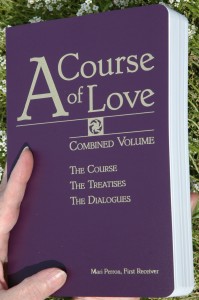 demonstration of coming to know together, in union and relationship. I am so grateful for the change that life is, for the poignancy of the human experience and the staying power of the divine experience joining with our lives in form.
What you are called to do is to, through your multitude, sustain Christ-consciousness, and thus create the union of the human and the divine as a new state of being.  T4:4.18

You will soon wonder, if you haven't already, just how it is going to be possible to live as your new Self while still in form, while still in a form that seems inconsistent with your being, while still in a form that exists within a form, within a world that seems inconsistent with your being. You will wonder how, if you are done learning, the patterns of learning will change to help you embrace the acceptance of this new time of no time. You will wonder how to live in time as a being no longer bound by time. And I tell you truly, that once acceptance of what is is complete, we will go on to these questions of the new and together we will find the answers. D:5.21
Together we find the answers—our own—and those common to all.
Thanks again to Joe Kittle, Lee Flynn, Ceal Keough, Brendalyn Batchelor and Unity Santa Fe, for bringing me in to share "A Day of Love." To Anne-Drue and Jon Anderson who hosted me, to Bill and Adele Glaser who hosted a pot-luck for the attendees of our day of sharing, to Sally Patton who invited me to Abiquiu, and to Kathy Scott Perry who supported me and us in this endeavor and is planning the next one in Sedona:
Sedona, Arizona – A DAY OF DIALOGUE AND UNION 
When: Saturday, October 15, 2016 – 10 AM to 4 PM.
Where: Unity of Sedona, 65 Deer Trail Dr., Sedona, AZ 86336
Tickets: $75 prepaid, and $85 at the door. Come join us!
For more information contact: Kathy Scott Perry, Event Coordinator, at 512-938-9996, or kathyscottperry@gmail.com.
To register: http://goo.gl/Rh5q5P