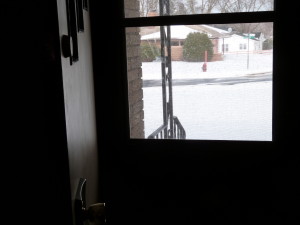 These words of love...
do not enter your body through your eyes and take up residence in your brain, there to be distilled into a language that you can understand. As you read, be aware your heart, for this is where this learning enters and will stay. Your heart is now your eyes and ears. Your mind can remain within your concept of the brain, for we bypass it now and send it no information to process, no data for it to compute. The only change in thinking you are asked to make is to realize that you do not need it. C:3.14
Here in Minnesota, a homeowner is very inconvenienced by not having a porch or front hallway.  At this time of year, it is nearly essential, especially if you are going to have more than one or two people visiting, that you have such a place and a rug for feet and a mat for boots. Churches have vestibules, hotels and theaters have lobbies, great houses have foyers, shopping malls their double doors.
When I was young, although we had a porch, it was the back door that got used. At the backdoor, surrounded by rag rugs, one entered onto a floor covered by a sheet or role of linoleum, or squares of tile in combination primary colors of which red and white and green were most common.
Even a piece of writing needs an entry point. It's what I love about the style of writing that has become common to the blog. A predecessor to the blog style might be the "column," where the non-editorial view of the columnist, rather than the view of the paper or the five W's (who, what, when, where, why), is the reason for the writing and the reading.
In my view, there is always an entry point to writing, even if it's not shared. In a similar way there is an entry point for all that is given from unity, and a way that we enter into relationship that is essential to our acceptance of our givens.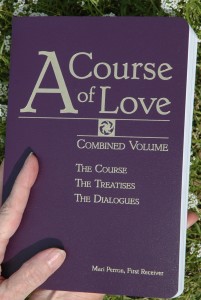 In Learning in the Time of Christ, Jesus says, "Listen simply to let the words enter you." (A.5) And in C:3.9:… "these words enter you as what they are, not the symbols that they represent."
Also in Learning in the Time of Christ (Jesus' guide to ACOL, the Appendix in the combined volume): "I ask you only to pause, to give the mind a rest, to enter a realm foreign to the mind and yet beloved to the heart. (A.12) We hear that in The Dialogues, "You have entered the final stages of revelation of Who You Are." (A.42) We're also told that ideas enter us. "The idea of unity and relationship must fully enter you now." (A.41)
The idea of "entry" came to me because yesterday, I hosted a brunch for my family. At the end of the day, as I readied myself to sit down to write, I noticed the entryway, now devoid of shoes, boots and coats, yet showing signs still of the coming and the going. As I sat down, I found I was too tired to actually write, but the idea gestated overnight. And so I want to suggest that like with a writing idea, what "enters us" is not necessarily known to us or complete as it arrives. Sometimes it arrives by the back door. But always, there is an interaction that occurs to bring what enters us—whether as ideas, or states of being, into their fullness.
I love this sense of "entering into" and of "being entered," and I believe that these often repeated words are calling for our attention.  As Jesus concludes The Course, he reminds us that an engagement with life is required: "This engagement is a promise, a commitment. It requires participation, involvement, attention, being present." (C:24.4)
If you would like to participate in an ACOL event (St. Louis in March, ACIM Conference in April), please see A Course of Love Facebook Page