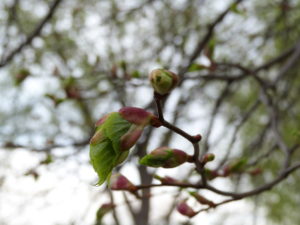 Let your heart be open to a new kind of evidence of what constitutes the truth. Think of no other outcomes than your happiness, and when happiness comes deny it not, nor its source. Remind yourself that when love comes to fill your heart, you will deny it not, nor its source. You do not need to believe that this will happen, but only to allow for the possibility of it happening.  C:7.23
The gift of redemption was the gift of an end to pain and suffering and a beginning of resurrection and new life. It was a gift meant to empty the world of the ego-self and to allow the personal self to live on as the one true Self, the one true son of God. The gift of redemption was given once and for all. It is the gift of restoration to original purpose. T3:5.7
Ever since writing my last dismal post on taxes I've been wanting to write a cheery spring one: one that says, "You can go on to the glory of spring and love the world . . . even when you must do taxes." But I was not motivated to do so until today when I noticed that all through Holy Week my journal has been filled with the word Now:
"Now I watch a squirrel by the wood pile pick up a hunk of the bread and climb a slender tree to eat it. Then, for the first time ever, I watch as he drops it, and must climb back down to retrieve it.  What a kick that is—to see something I've never seen before. Ah…this is what I live for!"
On another day:
"Now a heron drapes its way past my plot of sky. A moment later a junco sits atop the fence, head bobbing this way and that, and then drops over the edge, falling away from me rather than toward me. Then he's back without warning, his two little legs looking so tender beneath the roundness of his underbelly."
"Now seeing my first purple finch of the season."
Now and now and now. That's what it's been like.
The first spring rain came. There was a little here and a little there so that I could go out with some garbage to toss, or stand on the stoop and drink in the smell of wet cement that I so love. And then another short rain burst would arrive and this repeated several times as I made ready for the washing of my windows. And then suddenly, the work done, the sparkling windows brightly reveal that the apple trees now have buds. It was like a time lapse film of the passage of time.
Another day I write from the cabin window of the focus it takes to see the gradients of light and darkness before me at the pre-sunrise hour, and then that "there are little strips of light blue in the almost black sky and it's such a wonder to not have seen them sooner. So like with life! And the Course!"
I'm always feeling surprised by our Course. It's a now I see, and a now I see, and a now I see . . . over and over.
In a flash I realize that this "holy" Holy Week is inspiring my devotion in a new way, without, in a sense, my former dedication to the church or the past.
Since then I have been graced with the charm of open windows, and I love it especially in the living room when it blows the sheers and they move like they're breathing, and float in and out like butterfly wings.
And yet I did return to church for my parish celebration of Easter, and I thought of my dad, who I first started remembering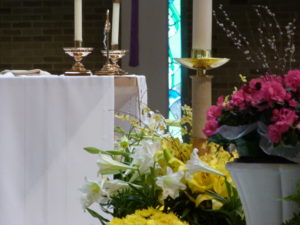 intensely after noting that the lilac bushes were blooming (the first of the bloomers, even before Holy Week). I found myself feeling how much like him I've become. At the end of his life he found his greatest happiness outside the window…literally. He had a picnic table filled with bird seed sitting on the deck directly below his kitchen window, and he could sit there so happily, for hours and hours, watching the birds enjoy their feast.
Dad cried easily too. I know his eyes teared up over the beauty of birds and the moon and even a greeting card. He was so easily touched by life.
So I'm sitting in church with bulletins and hymnals laid out on the three chairs next to me awaiting my daughter and her family. Mom had hoped to come but as usual lately, was too tired and had watched Mass on television. As I sat waiting without her, I noticed all the other "waiters" and my eyes teared up each time they were greeted. There was a dad, whom I could just tell was a little surprised as well as pleased with the arrival of his young-adult daughter. She joined him with a quick kiss as she slid past him, looking young and hip. There was a young couple coming with their children to join their parents and the delighted hugs exchanged between the grandparents and their grandchildren. Scenes like these repeated over and over. Then my own family members arrived, Henry (my grandson) first, and he slipped into the chair beside me as I welcomed him with the least possible fuss I could muster, but tears still stung my eyes. As I moved to let my daughter and her husband pass, I caught a glimpse of a man who often sits behind me, and he had the same look and smile on his face watching me, as I know I had watching the other "waiters."
Throughout the Mass my eyes and nose continued to tingle with tears. To me there's nothing more dear than a child's folded hands. But then when the collection basket came around and Henry (only 10!) refuses to have anyone contribute for him, and takes a bill out of his pocket? That about did me in!
I felt the blessing of Easter and of Spring and of the end of waiting. I felt the Now of it all. I felt the end of waiting—but not the end of expectancy. "Jesus Christ is risen today" we sing, and I know the risen Christ is in us. We are no longer waiting. But we are still as expectant as we are with spring…for each Now of New Life.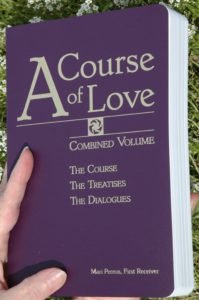 Hesitate no longer. Let your willingness exceed your trepidation. No longer wait to be told more before you accept what you have already been told. Do not wait for a grander call before you accept the call that has already sounded in your heart. Let this be the day of your final surrender, the day that will usher in a new day. D:5.22
Do not turn your back on the hope offered here, and when new life flows in to release the old, forget not from where it came. C:7.23