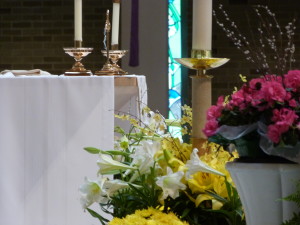 When you let go of fear and invite unity to return, you but send out an invitation to love and say you are welcome here. What is a dinner party where love is not? It is merely a social obligation. But a dinner party where love is welcomed to take its place becomes a celebration. Your table becomes an altar to the Lord and grace is upon it and the Lord is with you. C:11.18
My grandson Henry made his First Communion yesterday. The priest (one of the four priests) who officiated the event, spoke of his own First Communion, saying, "I don't remember much about my second grade year, but I'll never forget my First Communion." For almost everyone I know, hearing of Henry's First Communion brought up the distant memory of their own First Communion. Getting Henry's hair cut for the event, the barber and I had an extensive conversation about our memories. People with whom I've emailed for years, yet whose past religious experience I knew nothing about, have also been moved to recollect this moment of their past.
The timing of this family event, as has been the way with the timing of most every event in my life the last year or so, touches me at both a personal and a symbolic level. A sacrament is an outward manifestation of an inner reality. The inner reality that is manifested visually by Communion, is having a place at the table.
Tomorrow I will begin the travels that will take me to the annual Course in Miracles conference. It struck me this morning that this, too, is an outward manifestation of being invited to the table.
When I was within my love affair with ACIM, I doubt that I would have had a bit of interest in another course. In sheer size alone, I can't see myself as welcoming one. ACIM was such an intense read that it knocked out any desire to read anything else for two years. I know that for some, this feeling lasts decades. In this way, I have been able to relate easily to ACIM readers who haven't been drawn to A Course of Love. In fact, I am always in awe at the ways people have "stumbled upon," been surprised by, or been "taken" (almost against their will) into the depths of A Course of Love. That this has happened is, in some ways, the cause of this "invitation to the ACIM table," one that says, "You are welcome here."
In another way, an inner and invisible way, the invitation of Communion is  to welcome a guest "inside." The little ones are told, "Welcome Jesus to dwell within you." This too is implicit in the invitation of both of these courses.
The startling message of A Course of Love, the one that challenges and yet propels many of us, is the call to outward representation of a true inner reality; a true self. And so I go off, with some lovely friends and colleagues, to represent A Course of Love. I'm so appreciative of the invite, and of the companionship I've been offered along the way. Thank you. And if you should remember me this week, please join with me and all of those contributing to this Feast. Because we are all welcomed to have a place at the table . . . as who we are in truth.
Now the ego has been separated from the personal self so that you may claim your personal self again and present to others a true representation of who you are. … A true representation of the Self that you are is what we work toward in this Treatise and will lead to true vision and to a new world. … A representation of the truth not only reveals the truth but becomes the truth. T3:1.1-4