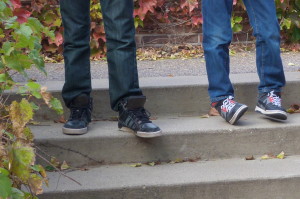 If you can't remove yourself from life, what choice have you but to join with it? Love it. Love yourself. Love yourself enough to accept yourself. Love will transform normal, ordinary, life into extraordinary life. Loving exactly who you are and where you are in every moment is what will cause the transformation that will end your desire to remove yourself from life. All those frustrations you currently feel have a purpose: To move you through them and beyond them—to acceptance. D:Day8.2
After an annual school-break excursion with my family to the small river town of Red Wing, I came home in time to take my mom to church. It was another passage. I pulled up to the front of the church to walk her up the ramp instead of the steps she was able to climb the last time we attended Mass. The parking was uncharacteristically tight and ushers ran up to tell me I couldn't stop there. I said, "I need to walk my mom in." A young man rushed forward eagerly. "I'll do it," he said. I bent to help Mom out of the car. "Is that okay?" "I guess," she said uncertainly. But the young man was so sweet that I thought it would be alright, and left her on his arm, parked the car, and returned. Then I looked for Mom in our usual spot and she wasn't there. Finding her, I said, "You're not in our usual spot!" She said, "It was too far to walk."
And so, in such small ways, life changes again.
At home a few hours later, I worked on Red Wing pictures for two hours—pulled them into my editing program, cropped them, named them, and added them to a Red Wing Album. Then I went back and deleted the files I'd started with. But . . . they were deleted completely . . . gone from my camera, from the files showing on the computer, and from the editing program too. I couldn't believe it. There were a couple of pictures that were so good. I still mourn that I'll never see them again. This annual trip is half photo taking excursion. Each year we stand in the same places. I wailed inside. "My family counted on me to get these pictures. And they're gone." All that was left were 15 pictures that I hadn't thought good enough to go into the album. The two on this page are from those, and still, I'm glad I have them.
It took me a while to reconcile this loss. To come to believe it had actually occurred. I wailed again, "They were irreplaceable!" I took the photo card out. Put it back in. Did file searches for 2015 and Red Wing. I thought I'd done all the right things. I felt buffaloed. I blamed it on the new Windows 10. I cursed and I stayed up way too late. I just did not want to accept that those pictures were gone!
I do not want to accept that my mom can hardly get to Mass anymore either.
The closing hymn of the Mass was "Lead Me, Guide Me." I thought of it this morning as I came to write of my series of unfortunate events; as I came to my computer journal to lament.
The chorus goes like this: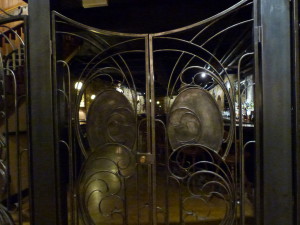 Lead me, guide me along the way./For if you lead me I cannot stray./Lord let me walk each day with Thee./Lead me, oh Lord lead me. (by Doris Atkers)
I believe in lamenting. This hymn's words are full of faith, but the sound of it is still one of lament. How else do you come to accept all those feelings and get all those feelings out of you? This has worked for me so many times that I can't believe it has anything to do with going astray.
I've been pleased to see so many books recommending journaling your way through the rough patches of life. Books that say, Put it all out there unvarnished. Wail. Flail. Fling your words at the page. Don't leave anything out. Don't judge. Don't get stuck in wondering why. Just get it out. Swear if you want to. Over many years I have found this process to be life-saving. A decade or more ago, my sister told me, "Once you write about something, you think it's over." She was talking of all the things I didn't tell her, the private things that I didn't share in conversation. I thought it was as true a statement as she'd ever said. Sometimes, when I push things out through writing, I am done with it. Whatever it was, and the charge of it, has left me. At other times, there is much more that needs to be done before the situation is resolved. Often I've been able to tell the difference, but at other times not.
In A Course of Love, Jesus calls this "moving through." Whatever each of us need to do to move through the various situations of our lives and the feelings they instill, are essential to recognize, if sometimes slow to come into focus. Journal writing is sharing with myself. Other writing is sharing with others. At times, conversation and action are needed too. Many things—like the plight of an aging parent—or the misfortunes of technology—take both an internal and external engagement. Attention to a process of moving through can bring the sweet and uncomplicated acceptance of what is . . . a completion that can still be tinged with the poignancy of the heart's aching desires.
The purpose of the final lessons are both unlearning and moving through unlearning to new learning. These lessons must be accomplished in life and require an engagement with life. This engagement is a promise, a commitment. It requires participation, involvement, attention, being present. C:24.4